Out-of-This-World-Results


"Not finance. Not strategy. Not technology. It is teamwork that remains the ultimate competitive advantage,both because it is so powerful and so rare."​
 Patrick Lencioni, Author The Five Dysfunctions of a Team
We Leverage Real Work & Customer Experiences to Achieve Immediate Results
Even successful teams have challenges working together sometimes.  Teams that win consistently leverage them as opportunities to become stronger & more effective.  Our proven, actionable solutions & tools mean it's not complicated to:
Identify, clarify & simplify challenges from all the stakeholder's perspectives.
Walk your team through healthy & productive conflict deliberation with resolution & unified commitment.
Gets results!  Your team emerges energized, cohesive, more effective - better!
Read More
Are your teams focused on how they impact the customer experience - or struggling with how they are being affected by other teams and competing objectives?  Get your teams on the same "side"!  Leveraging our solutions & tools, your organization can be one of "those" places:
Teams & cross-functional efforts are harmonized & productive
People love to work and are committed to winning.
Inspires initiative innovation & success
Attract the best talent
Read More
Today's complex environment is making it harder to win, for even the strongest performers.  The champions will be those that provide comprehensive solutions, with people that interact & provide information in ways that "match" how each customer makes buying decisions.
Develop the skills that allow you to stop selling, and start strategic conversations that inspire partnerships, long-term relationships and profitability.
Learn how to instantly identify a customer's style, and adapt interaction & information to make it natural for them to buy from you.
Learn the "rules of engagement"
Read More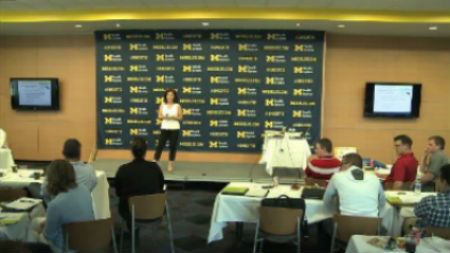 What Clients Are Saying
"Michelle has a way of connecting ​with people that makes an immediate impact. Right after the first workshop I could see changes in how my team was interacting. She didn't just give us information, she showed us how to implement it so it would make ​the difference."
​- President, Marketing Solutions Provider
"Great info.  Well-presented & actually engaged my emotions.  Michelle has a different way of talking to a group that has impact."
 - Participant at Rules of Engagement Seminar
"My team enjoyed the first day so much, I decided to sit in on day two. Comprehensive, helpful, enjoyable, great examples & activities. Very motivating & worthwhile info. Awesome workshop!
– Founder Telecommunications Service
"Excellent! Michelle gets it. She really gets customers. Information that can be applied TODAY." 
-Senior Sales Leader
"Fun! Important but hard to remember concepts that Michelle made into fun! Materials were great – not excessive "paper" but meaningful activities instead."
– Participant in The Art of Negotiation
"What I learned in this workshop effects everything I do to build my business. It truly changed the impact I have with my internal teams and with customers. A GAME-CHANGER!"  
- CEO, Medical Supplies Provider
Schedule a Conversation Now!
Let us design a custom program for you.