ACTIONABLE TEAM SOLUTIONS
Are your teams focused on how they impact the customer experience - or struggling with how they are being affected by other teams and competing objectives?
Every team member impacts the customer experience, even if they never directly interact with a customer. Get your teams on the same "side"!  When you leverage our solutions, tools, and experience your organization can become one of those places where:
Teams & cross-functional efforts are harmonized and productive
Members are engaged and are committed to winning
Leadership inspires initiative, innovation & success
People want to work so you attract the best talent


Using real-world customer and work experiences, we help you provide the skills and tools for team members to:
Identify their individual impact on the internal and external customer experience.
Appreciate that they can help differentiate beyond price & product, either directly or by how they contribute to the solution you deliver.
Learn how to evaluate ideas and processes from the customer's perspective, and how to recognize "turning points" and opportunities to contribute to game-changing service.
Recognize different personality styles so they can adjust communication and information delivery to be most productive and effective.
Turn difficult conversations, conflict, incompatible processes and competing objectives into opportunities to fuel creativity, innovation & success.
Benefit from cross-functional learning and perspectives, and share work & customer experiences.
Contribute to building a healthy, fulfilling, customer-connected team and create competitive advantage!
OUR SOLUTIONS HAVE AN IMMEDIATE IMPACT ON TEAM MEMBER'S CONTRIBUTIONS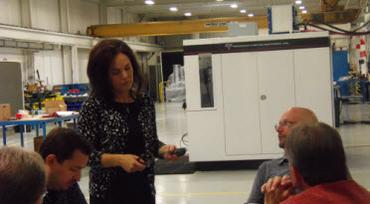 What Team Members Are Saying:
"This is great team-building stuff. Michelle provided great reminders to see ourselves from our customer's perspective – and use it to affect how we talk, listen – everything."
"I think some of our younger, less experienced guys learned that there are different personalities and different ways to work with different styles – and also realize that customers actually exist."
"This workshop helped me separate out the emotion from the things that frustrate me about the Sales group. Michelle really helped the Ops group "get" the salespeople better so we work better together now."
"Being new to my division, these workshops have been extremely helpful.  I've learned a lot about traits & styles of our Sales & Management teams before officially working with them.  It is going to be much easier to establish effective working relationships because I'll be able to apply what I've learned."
"My revelation?  Focus on changing my behavior and solving the problem, not on the other person's delivery - & don't make it personal!"
"Michelle got us to think differently. The activities were good and really relate to all facets of life.  Helped with how to find common ground with management, as well as inside & outside customers. Much needed.  Nice presentation & interesting activities – Michelle has great energy!"
Schedule a Conversation Now!
Let us design a custom program for you.